Twig

By Emily Ballard
Emily & Twig (FC Pocketpack Naughty Pine MW RN TD)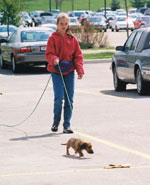 VST
Agility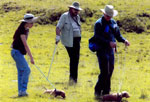 Field Trial
Tracking
My name is Emily Ballard. I am 13 years old and live in Stratford, Wisconsin. My mom and I have five Miniature Wirehaired Dachshunds. I have been going to dog shows and field events with my mom since I was just a baby. Mom's dogs have earned lots of titles in all the different events that dachshunds can do. When I was little, I would help my mom walk the dogs, but couldn't do much else with them. I liked going to Field Trials the best because I got to help beat the brush with a stick to look for rabbits. The first event I did was Field Trials, where the dog follows the scent of a rabbit. When I was about 8 years old, I ran a couple of my mom's dogs in the Field Champion stakes. The dogs pretty much knew what to do and all I had to do was point them in the right direction and let go of the slip lead. I have also tried Agility, Earthdog, and Tracking with mom's dogs. But I wanted to try training a dog myself to do these things from the beginning.
There was one puppy in the last litter that was supposed to be sold, but wasn't. She has always been a bit shy and reserved, and not quite the type of dog mom wants us to keep. Mom said that while we waited for the right home for her to come along that I could work with her. Her name is Twig. I started teaching her to track, where the dog follows a scent trail of a person, like search and rescue. Mom would walk a track leaving lots of articles along the way. I would take Twig to the start of the track, put on her harness and long line and ask her to find the track. She learned pretty quickly that each time she came to an article I would give her a treat. She usually leaps in the air with excitement when she finds an article. Because we have snow on the ground for several months during the winter, we weren't able to practice tracking in the winter.
Tracking was good practice for Field Trials. I ran Twig in Field Trials in the Open All-Age Bitch Stake and had to learn to be a better handler than I was when running mom's experienced Field Champions. Many times my mom would be judging another stake while Twig's stake was running, so I had to pay attention so I could get her ready when it was her turn to run. About the only practice we did was the night before a Field Trial. We would take the dogs out in the field and find a rabbit for them to follow and I would encourage her to stay with that rabbit and not run off to find another one. Twig did pretty well in Field Trials, winning lots of ribbons. To earn a Field Championship, the dog has to win a First place as well as two other placements and a total of 35 points. Twig had plenty of placements and points, but it took a while for her to win her First place. I learned a lot about how to handle a dog in Field Trials with Twig. It isn't as easy with a beginner dog as it is with a dog that already knows how to do field trials.
During the winter, we started learning about Rally. I read the instructions for the different signs in Rally and started to teach Twig to heal, sit, and down and make circles and turns while healing. My mom says I can do a better left about turn than she can! I practiced in the house, in the hallway and living room. In the summer of 2006, Twig and I earned the RN (Rally Novice) title in three straight trials. We've tried Advanced Rally, but so far Twig gets a bit nervous working off lead.
I've shown Twig a few times in Junior Showmanship, but usually show one of mom's dogs. I've worked with Twig in Earthdog and Agility, but we haven't earned any titles in those events yet.
I tried tracking with her at the Dachshund Club of America's National Tracking Test in Georgia in 2006, but is was cold and raining and Twig just wouldn't track. We continued to practice tracking and planned on trying again at the 2007 National in California. The National was in March and we hadn't tracked since early November because of the snow, but drove out there hoping she would remember how to track once we got there. We stopped once on the way out when we found a Park that didn't have snow to do a track, and she did fine. I was so nervous the day of the tracking test, and drew the first track. The field was full of tall sticky weeds and lots of game trails. Twig wanted to check out all the game trails, but I kept asking her "is that your track?", and she got back to tracking. When she found the glove at the end, she leaped up in the air, and I picked it up to show the judges that we'd found it and we passed the test to earn the TD (Tracking Dog) title. My mom and the other people watching were cheering and very happy for us. She won a medallion.
A couple days later, we were doing Field Trials at the National Field Trial. Twig came so close to winning her First place, she was second. I was still very proud of her. She had done a very good job following the huge jack rabbits they have in California. We have cottontail rabbits at the trials in the Midwest. About a month after we got home from the National in California, we went to a Field Trial in Illinois. It was warm and windy on the weekend, making it difficult for dogs to follow the rabbit scent. Twig did a great job and won First place in the Open All-Age Bitch Stake on Sunday to finish her Field Championship. People told me I did an excellent job of handling her. She also won Absolute which is like High in Trial or Best in Show and won a big red, white, and blue rosette and a great big heavy bronze plaque!
Mom had said that I could work with Twig until we found the right home for her. A lady that bought a puppy from mom 10 years ago wants another dog, and mom thinks this would be a good home for Twig. She will be going to live in Arizona later this summer. Mom says I deserve a better dog and I might get to have a puppy from her next litter. I am looking forward to training my next dog!