Adventures in the Sport of Dogs

By Mary Schroeder
This year I received an AKC Junior Showmanship Scholarship. I was so excited to be chosen for this honor. The sport of purebred dogs has had a great influence in my life, and I know that I will continue to participate in it as an adult.

I have loved dogs for as long as I can remember. I can recall playing with stuffed dogs instead of dolls when I was very young. As I got older, I started collecting and reading dog books. Whenever my family drove by someone walking a dog, I was almost always able to tell them what breed it was.

After many years of begging and pleading, my grandma decided that she would help me get a dog if I was very good. We researched the different breeds and decided that a small dog would be best for us. We narrowed down the search to three different breeds: Miniature Schnauzers, Poodles, and Chihuahuas. My grandma got me a toy poodle puppy who we named Velvet, but by the time we got to my grandma's house to pick Velvet up, she had decided that Velvet was too shy for our busy household.

Shortly after this, my grandma learned about the Shih Tzu. I had never heard of this breed before, but I soon learned that the Shih Tzu is a small, sturdy, friendly dog that makes a great family pet. My grandma's friend had bought a Shih Tzu from a certain breeder and was very happy with the dog. My grandma contacted the breeder and learned that a litter of puppies would be born in August.

When the litter was a few weeks old, I got to visit the breeder's home. I had the opportunity to meet both parents and the three puppies. My mom and I decided that we wanted the female puppy in the litter.

When the puppies were seven weeks old, my grandma took the female puppy to her house. My family made the seven hour drive to take the puppy home. We decided to name her Lady.

I started training Lady at home using directions from a Purina Puppy Care handbook. Later, we took a puppy class offered at our veterinary clinic.

I was in fourth grade when we got Lady. At the end of fourth grade, my mom decided that she would home school me the following year. My parents enrolled me in 4-H so that I would have an opportunity to be with other kids.

When it was time for me to sign up for my 4-H projects, I enrolled in the dog project. Soon I received a letter from the Key City Kennel Club (KCKC) in Mankato, MN offering 4-H'ers reduced costs for dog training classes. Lady and I enrolled in a basic obedience class to prepare for competition in the county 4-H dog show that summer.

On the first day of class, Lady was terrified of the new place and all the strange people and big dogs. Lynn Davey, Connie Timmerman, and Jenny Otterness helped us improve on our basic commands and attention skills and gave us a great foundation for our future participation in the sport of dogs.

During the spring and summer we also took 4-H obedience and showmanship classes from Denise Keller. Denise was the one who really got me hooked on the sport of dogs. She taught me everything I needed to know about showing Lady in a 4-H dog show and coached me in dog bowl (a contest where teams of 4-H'ers are asked questions about dogs).

After graduation from basic obedience, we took several more KCKC obedience classes and a rally obedience class. We also took 4-H obedience and showmanship classes in the summers. My bond with Lady grew and I learned more and more things about training, competing, and dogs in general as I took more KCKC classes.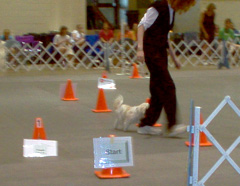 When I was in seventh or eighth grade, I learned about the AKC's Indefinite Listing Privilege (ILP) from a KCKC instructor. When I got Lady in fourth grade, I was so excited about getting a dog that I wasn't worried about AKC registration - the breeder thought it was a waste of money, and we had never even considered showing Lady when we got her. I now know how wrong the breeder was. Even if a new owner never shows his or her dog, the money from AKC registration helps pay for various programs that help dogs everywhere, like research to stop genetic diseases, support for service dogs, and public education. The owner who registers his or her new puppy will receive a registration certificate, a free 60-day trial of the AKC Pet Healthcare Plan, a certificate for a free first veterinary visit, and a New Puppy Handbook, not to mention the opportunity to exhibit the dog in AKC events.

When I was in ninth grade, my mom agreed to apply for an ILP number for Lady. I was ecstatic when I got the letter from the AKC saying that Lady had been accepted into the program and could compete in AKC events. From that day on, I dreamed of the day when I would handle Lady to an AKC title.

We entered in Novice A obedience and Novice A rally at our first AKC show - the KCKC show in St. Peter, MN. Lady qualified and placed second in rally, and would have qualified in obedience if I hadn't given her two double commands! On May 24, 2008, Lady earned her Rally Novice (RN) title.

After five NQs in Novice obedience, Lady finally qualified in July of 2009. She also qualified at her next two shows, and on July 31, 2010, she earned her Companion Dog (CD) title. We are currently working towards a Companion Dog Excellent (CDX) title in Open obedience.

Lady needs one more qualifying run to earn her Rally Excellent (RE) title. The next and highest rally title for us to earn is a Rally Advanced Excellent (RAE) title, which requires ten double qualifying scores in Advanced B and Excellent B rally at the same trial.

At this time we also decided to give agility a try and took a beginning agility class at KCKC. Judy Petersen, Annette Frederick, and Lois Almendinger helped me teach Lady each obstacle and helped us run our first sequences. They also taught me about handling techniques on an agility course.

Lady's biggest challenge in agility is that she is slow. My agility instructors gave me invaluable advice for getting Lady excited about this fun sport, like how to get her excited before a run by pulling back on her collar and keeping training sessions short and positive.

We competed in Novice Standard and Jumpers with Weaves at our first AKC agility trial in October 2007. Lady had good runs in both classes but didn't qualify in either of them.

In the summer of 2008 we discovered that Lady's vision was impaired in her right eye. This explained why she always came down the A-frame very close to the right side, a behavior that my agility instructors and I had been working to eliminate. My mom and I decided that Lady should only run in Jumpers with Weaves so that she wouldn't have to risk getting injured from falling off of contact obstacles.
After two nonqualifying runs in Novice Jumpers with Weaves, Lady had her first qualifying run at the KCKC agility trial in 2010. Up to this point, I had only entered her in one agility trial per year because the KCKC trial was the only one close by and because I hadn't been very optimistic about qualifying. After finding out that it wasn't impossible for Lady to qualify in AKC agility, we entered all three days of the K-9 Obedience Training Club of Menomonee Falls' 2011 agility trials. Lady had another qualifying run on May 21. I hope to have one more qualifying run with Lady to earn her Novice Agility Jumpers Preferred (NAJP) title by the end of this year.

When I was in eleventh grade we started competing in AKC Junior Showmanship. We had been competing in 4-H showmanship for several years, and our 4-H showmanship instructor Kathy Francis, who is also an AKC conformation and Junior Showmanship judge, said we would do very well in juniors. We also took a KCKC Junior Showmanship class in order to learn handling skills specific to the AKC ring.

We won the Novice Senior class at the 2009 KCKC show. Even though there were only two other juniors showing in this class, I couldn't believe that we won!

Lady and I also won in the Novice Senior class at the KCKC show the following year. Unfortunately, I aged out before we could have our third win and start competing in Open Senior.

I have also been involved in other dog activities besides training and showing Lady. I have been competing in the 4-H Dog Bowl competition (a contest where teams of 4-H'ers are asked questions about dogs) every year since sixth grade. I have also made a dog poster or tri-fold to enter in the county fair every year. I am teaching a rally class for 4-H'ers for the third year now. When I was in high school, I gave presentations about my breed and safety around dogs to elementary school children at my FFA chapter's Spring Ag Show, and I was given the opportunity to teach a class of eighth graders about responsible dog ownership. In addition, I have given various presentations on different aspects of the Dog Project to my 4-H club. In 12th grade I placed first in the state in the FFA Small Animal Career Development Event, in which FFA members had to take a test about anatomy, breeds, and care of pets.

Some of my other dog-related activities include volunteering at my local humane society, helping a therapy dog owner make visits to a nursing home, and training two puppies in basic obedience. I currently have a job walking one of the dogs that I trained, and another job exercising a Boxer, two Cocker Spaniels, and a Dachshund.

This fall I will be attending Bethany Lutheran College as a sophomore. I am majoring in biology to prepare for a career with animals. I hope to apply to veterinary school and see if I can get in. If I do become a veterinarian, I would love to work on research to identify the genes that cause hereditary diseases in dogs. However, I would be happy with any occupation in which I would be working with and/or helping any kind of animal. Even if my future job doesn't involve working with dogs, I hope that I will always have dogs in my life and will be able to compete with them in AKC events. Training and showing Lady in 4-H and AKC shows has made her more confident and has taken our bond to new levels, and I want to give my future dogs the same opportunities. If I ever have a breed that can compete in AKC performance events such as lure coursing, earth dog, or herding, I plan to participate in these events with that dog.

I want to become more involved in my nearest kennel club when I get older. I plan to attend club meetings and help the club in any way I can. I would also like to become a member of the national club for my breed.
My advice to other junior handlers is to HAVE FUN caring for, training, and showing your dog. Enjoy the competition, the dog people you meet, the friendships you make, and, most of all, the strong bond you are building with your dog. Take advantage of every opportunity that is presented to you to learn something new about dogs, whether it is going to your dog's vet appointment, apprenticing for a professional handler, or checking out a dog book at the library. These kinds of experiences will help you as you work with your dog. Try lots of different sports and activities with your dog; don't limit yourself to one sport. Doing many different kinds of training makes dogs well-rounded and keeps them challenged. Finally, don't get discouraged if your dog isn't doing as well as the other dogs at the same level. Different breeds and individual dogs have different talents, abilities, likes, and dislikes. Your dog might be a natural at one sport while your friend's dog is almost perfect at another sport. In the activities that your dog is less proficient at, try to set personal goals like a qualifying score or a clean run instead of more competitive goals like winning your juniors class or a High in Trial.

I would like to thank all of the dog training instructors mentioned above for their time, effort, and advice. Lady and I would never have been successful without your help. I would also like to thank my mom for her support and the many hours she spends driving me to training classes and shows.

I would not be the person I am today without the experiences I have had in AKC and 4-H dog activities. Working with Lady has taught me responsibility, patience, time management, the value of hard work, and a love of animals. Most of all, it has been fun! I am looking forward to a lifetime of involvement in the sport of dogs.