AKC Announces Community Achievement Award Recipients
July 2010
The Belle-City Kennel Club of Belleville, IL, and the Lawrenceville Kennel Club, Inc. of Lawrenceville, GA, are recipients of AKC Community Achievement Awards for the second quarter of 2010.
The AKC Community Achievement Awards support and recognize outstanding public education and legislation efforts of AKC-affiliated clubs, AKC-recognized federations and individual members of AKC dog clubs. The AKC selects award recipients who promote purebred dogs and responsible dog ownership within their communities or who have successfully introduced, monitored and responded to legislative issues affecting dog ownership.
Belle-City Kennel Club
Members of the Belle-City Kennel Club (BCKC) learned that dogs and officers with the K-9 Police Unit in neighboring Fairview Heights were training in an old garage without heat or air conditioning. In response, BCKC members invited canine police units from around the area to use the club's training building and equipment twice a month free of charge. Police dogs benefit from the experience of training in different locations and their handlers appreciate the opportunity to use the club's agility equipment in their exercises.
BCKC members raised funds for a $1200 "hidden bite suit" for use in police dog training. The club also donated animal oxygen masks to local fire departments and provided a dog first aid kit for the Belleville Fire Department's new accelerant detection dog.
Members of BCKC offer dog training classes, clinics, and obedience demonstrations as part of their community outreach efforts. Members also give dog safety presentations to school children, and educational seminars to promote proper consideration when selecting and purchasing a puppy. Several club members participate in weekly therapy dog visitation programs. The club's community-based activities have been featured in several local television spots.
BCKC members allied with other Illinois kennel clubs to hire a lobbyist and to work together to fight unreasonable anti-breeder legislation introduced in the Illinois General Assembly in 2009.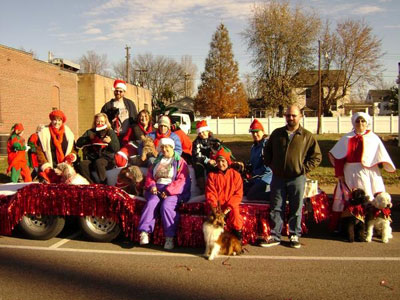 Members of the Belle-City Kennel Club participate in the community holiday parade.
Photo Courtesy Belle-City Kennel Club
Lawrenceville Kennel Club
As part of a new county initiative, members of the Lawrenceville Kennel Club, Inc. (LKC) serve as volunteer trainers with "Operation Second Chance," a program started by the Gwinnett County Sheriff. As part of the program, a local private rescue organization places dogs from the county animal shelter with inmates at the Gwinnett County jail. LKC member Charles Baranowski heads a group of LKC members who teach inmates how to train dogs and make them more adoptable.
LKC members also help local members of their community be responsible dog owners. Obedience classes at the LKC Training Building are geared toward the general public to encourage well-behaved dogs and responsible dog ownership. Free obedience class enrollments are provided to people raising puppies to become assistance dogs. AKC Canine Good Citizen tests are offered at the end of each eight-week class session. In addition, LKC member Mary McElroy leads a "Reading with Dogs" program in local public schools. When the program launched, free obedience classes were offered to teachers who wanted to train their own dogs for the program.

Other community educational activities include presenting the AKC Safety Around Dogs program in schools, to scout troops and to other children's groups. Each September, the Gwinnett County Board of Commissioners proclaims a "Responsible Dog Owners' Day" and a community event is held to encourage responsible dog ownership.
Lawrenceville KC member Robert LaBerge (left) assists at the Lawrenceville Kennel Club's Responsible Dog Ownership Day.
Photo Courtesy Lawrenceville Kennel Club
Nominations for the AKC Community Achievement Awards are accepted year-round. Up to three honorees are named each quarter. They receive a certificate of appreciation and a check for $1,000 to further the club or federation's public education and canine legislation efforts.
Click here for more information and a nomination form.