August 2010
From our Nation's Capitol
The U.S. Congress is on recess from August 9-September 10. Even so, AKC Government Relations and AKC's federal advocacy team in Washington, D.C., continue to monitor Congress for issues of interest to dog owners. Visit our 2010 Legislative Tracking Page and click on "US Fed" on the map to get the latest updates on federal bills currently being monitored by the AKC. Also, be sure to check out the new, Summer 2010 edition of AKC's congressional newsletter In Session for interviews with congressional dog owners, issue analyses, and other articles that demonstrate to Congress AKC's commitment to the promotion of responsible dog ownership.

Here are a few of the bills we're tracking in Congress.

News from the State Capitols
Eleven state legislatures and the District of Columbia are currently in regular session; California, New Jersey, New York, and Pennsylvania are in special session. To date, AKC Government Relations (AKC GR) has tracked over 1,100 bills in 2010 at all levels of government. For the latest information on the state and federal bills being tracked by the Government Relations (GR) Department, visit our 2010 Legislation Tracking page. This page, updated daily, provides the latest bill text, status, and Legislative Alerts posted by the AKC.

Also, be sure to check out our state legislative version of the In Session newsletter and consider printing and distributing it to lawmakers and candidates as you discuss canine legislation issues.

For more information on any of the measures mentioned, contact us at (919) 816-3720 or doglaw@akc.org.

Here are some highlights of the bills we are currently tracking.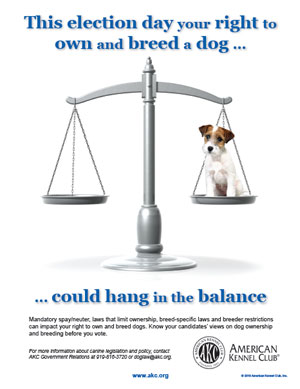 Local Battles
The AKC Government Relations Department (AKC GR) continues to work with responsible dog owners to help with canine legislation issues in their local communities. If you hear of an issue in your town or county, contact us at (919) 816-3720 or doglaw@akc.org. We will be happy to provide you with the resources, tools, and support you need to help fight for responsible dog ownership in your community.

Here are some examples of the local issues currently being addressed by AKC GR, as well as some victories for dog owners within the past month.

Don't Stand on the Sidelines this Election!
Election Day is just three months away, and the campaign season is heating up. Political pundits project a larger voter turnout than usual for a mid-term election. While the majority of candidates may not be making speeches about canine legislation, it is almost a certainty they will encounter it if elected. It is essential for all responsible dog owners, exhibitors, and breeders to not just vote in November, but to be informed and active during the campaign season. Read more.

NC Federation Awarded Inaugural Bebout Award
The American Kennel Club Government Relations Department was pleased to award the inaugural Walter Bebout Memorial Award for Leadership in Canine Legislation ("Bebout Award") to the North Carolina Federation of Dog Clubs.

"The North Carolina Federation of Dog Clubs received this award because of the tremendous breadth and depth of leadership they've demonstrated in canine legislation over the past two years," explained Sheila Goffe, Director of Government Relations.

Read more.

Is your Beagle legal? Stay Up to Date on Dog Ownership Laws
Being a dog owner is a great responsibility that goes beyond general care and training. The AKC believes that an important part of being a responsible dog owner or breeder is compliance with all prevailing laws.

To assure the reputation of responsible dog owners everywhere – especially at a time when responsible dog breeders and owners of multiple dogs are under attack throughout the country by people who don't value dogs the way we do – it is critically important that all responsible dog breeders and owners value their reputations as never before and become familiar and follow the laws, rules, and regulations of their jurisdictions. Do not give animal rights advocates any reason to single you out.

Read more.


Welcome to summer recess! August means a break for schoolchildren and many families – and your federal legislators too! Members of Congress are back home in their districts and meeting with local constituents. It is a perfect time to schedule a brief meeting and discuss canine legislative issues of concern to you, your club, and your community.

This year, August also signifies an increase in local, state, and federal campaign activity. The 2010 elections at all levels of government could significantly impact our rights to own and breed dogs in the future. To preserve our rights, it is critically important that we learn the views of candidates on dog ownership, breeding, and the animal rights movement, and that we support candidates who respect our rights. In this issue, we unveil our newest handout, which briefly explains the importance of voting for dog and breeder-friendly candidates this November. We encourage you to print this and distribute it at club meetings, shows, and wherever responsible dog owners and breeders gather.

There are many ways to learn the candidates' positions on issues of canine legislation before you go to the polls in November. Take the time to attend candidate "town hall" meetings and public forums – and and ask questions. Consider scheduling a brief appointment or inviting candidates to your club meetings to discuss canine legislative policies that are important to you. Be sure to read our article in this issue that provides sample questions to ask and other suggestions on how you can make a difference in this election. Also remember that the AKC has a political action committee (PAC) that supports the campaigns of dog-friendly candidates. For more information on the AKC PAC, visit our web site.

I also urge you to take the time to invite local lawmakers and candidates to your community events. This is a relaxed but effective way for them to see the impact responsible dog owners have on their communities. It will also help them think of you as a future constituent resource for canine legislation issues in your area.

If you, your club, or organization are working to address canine legislation in your area, I encourage you to submit a nomination for our Walter Bebout Memorial Award for Leadership in Canine Legislation, which supports and recognizes outstanding efforts in the legislative arena. In July, we were pleased to present the inaugural Bebout Award to the North Carolina Federation of Dog Clubs. Their tireless efforts resulted in the defeat of a problematic breeder regulation bill in the state. View our article to read more about the federation's efforts and how to submit a nomination for this award.

August is not too soon to think about what you can do to impact the upcoming elections and take a positive stand in support of responsible dog ownership and breeding. The AKC Government Relations Department would be pleased to provide you with resources and suggestions on how to be an effective advocate. If you have additional questions, please contact us.

Thank you for standing with us.

All the best,
Sheila Goffe
Director of Government Relations