September 2010
From our Nation's Capitol
The U.S. Congress returns to work on September 13, 2010. The AKC Government Relations Department and AKC's federal advocacy team in Washington, D.C., continue to monitor Congress for issues of interest to dog owners. Visit our 2010 Legislative Tracking Page and click on "US Fed" on the map to get the latest updates on federal bills currently being monitored by the AKC. Also, be sure to check out the new, Summer 2010 edition of AKC's congressional newsletter In Session for interviews with congressional dog owners, issue analyses, and other articles that demonstrate to Congress AKC's commitment to the promotion of responsible dog ownership.

Here are a few of the bills we're tracking in Congress.

News from the State Capitols
Ten state legislatures and the District of Columbia are currently in regular session, and New York is in special session. To date, AKC Government Relations (AKC GR) has tracked over 1,200 bills in 2010 at all levels of government. For the latest information on the state and federal bills being tracked by the Government Relations (GR) Department, visit our 2010 Legislation Tracking page. This page, updated daily, provides the latest bill text, status, and Legislative Alerts posted by the AKC.

For more information on any of the measures mentioned, contact us at (919) 816-3720 or doglaw@akc.org.

Here are some highlights of the bills we are currently tracking.

Local Battles
The AKC Government Relations Department (AKC GR) continues to work with responsible dog owners to help with canine legislation issues in their local communities. If you hear of an issue in your town or county, contact us at (919) 816-3720 or doglaw@akc.org. We will be happy to provide you with the resources, tools, and support you need to help fight for responsible dog ownership in your community.

Here are some examples of the local issues currently being addressed by AKC GR, as well as some victories for dog owners within the past month.

Changes to AKC Position Statements
The American Kennel Club has recently made some changes to its official policy position statements in order to clarify our position in support of reasonable, effective, and fair canine legislation. This includes adding a sentence to the "Right to Keep and Enjoy Dogs" policy that clearly states, "The AKC opposes laws that limit the number of dogs a responsible owner may own."

In response to increasing attempts to limit the accepted veterinary procedure of debarking, the AKC has also released the following new position statement:

Debarking is a viable veterinary procedure that may allow a dog owner to keep a dog that barks excessively in its loving home rather than to be forced to surrender it to a shelter. Debarking should only be performed by a qualified, licensed veterinarian after other behavioral modification efforts to correct excessive barking have failed. As with other veterinary medical decisions, the decision to debark a dog is best left to individual owners and their veterinarians.

Click here to see the full list of AKC's position statements.

Visit the AKC Government Relations Department's online Toolbox to print individual position statements

Elections Essentials: Understanding Ballot Propositions
Responsible dog owners, exhibitors, and breeders regularly fight for their rights from city halls to the halls of Congress, but there is another battleground in 27 states that cannot be ignored – the ballot initiative process. The path these propositions take to get to the ballot varies by state, but the basics remain the same: Once the proposition is on the ballot, popular vote will decide whether it becomes law. It is imperative that residents of these states pay close attention to the propositions on the ballot this November to consider how they will affect responsible animal owners and breeders. Read more.

New in the GR Toolbox:
Why Mandatory Spay/Neuter Laws are Ineffective
The AKC Government Relations Department continues to add new resources to our online Toolbox to help you communicate with candidates, lawmakers, and colleagues about responsible dog ownership. This month, we have added a new article that discusses Why Mandatory Spay/Neuter Laws are Ineffective. This article provides a number of anecdotal examples and practical reasons for why these laws do not work, and discusses more positive alternatives for communities.

Be sure to visit the AKC Government Relations Toolbox often for the latest materials you can download and print for legislative battles, upcoming events, and club meetings to help educate others about the importance of promoting and protecting responsible dog ownership and breeding practices.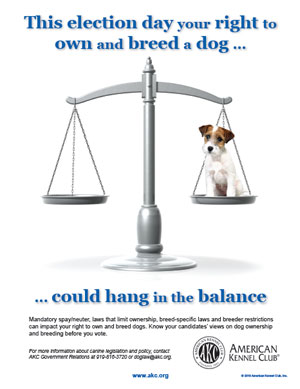 With Election Day just two months away, now is the time to educate yourself, your friends, and your colleagues, about the candidates' stances on canine policy issues.

This year, in addition to voting on candidates for office, residents of some states will also be voting directly on policy initiatives. This issue of Taking Command looks at the ballot initiative process in general, variations in the way states that use the ballot initiative process, and especially the upcoming ballot initiative in Missouri that seeks to limit the number of intact dogs a person may own.

Missouri's Proposition B ballot initiative poses a real threat to responsible breeders because it confuses the real issue of animal welfare – which focuses on the quality of care given to animals – with arbitrary limits on the number of dogs a person can own. Reasonable people know the issue isn't about numbers; it's how the dogs are cared for. Cruelty and negligence can occur regardless of the number of dogs a person has. If this measure succeeds in Missouri, it is likely that dog breeding in many other states would face similar threats.

We encourage everyone to learn their own state's policy on ballot initiatives and to take a close look at any measures that may be on your ballot this November or in future elections. Consider how these issues could affect the rights of those who wish to own and breed animals in a responsible manner.

Even if you aren't facing a ballot initiative, participating in the 2010 elections will be critically important to ensuring that your rights as responsible dog owners and breeders are protected. Take time to learn about the attitudes and viewpoints of candidates for office in your area. Review the August issue of Taking Command, which provides helpful suggestions for assessing candidate positions on canine legislation, and be sure to share your findings with all your fellow dog lovers in your region.

The American Kennel Club has also recently clarified its official positions in support of sound, reasonable, and fair canine policy. Newly updated canine legislation policy position statements, including a new policy position on debarking, are now available online.

While you are online, be sure to check out Why Mandatory Spay/Neuter Laws are Ineffective, the latest addition to the AKC Government Relations toolbox. This new article explores common problems with mandatory spay/neuter laws and provides helpful facts and talking points to use when fighting MSN laws in your state and community.

We hope these tools will prove helpful to you as you communicate with candidates, lawmakers, and members of your community about promoting responsible dog ownership. As you reach out in your community, please don't hesitate to contact us with suggestions for specific policy issues you would like us to address in future articles.

We look forward to continuing to help you promote and protect responsible dog ownership during this election season and into the coming year.

All the best,
Sheila Goffe
Director of Government Relations