Ask AKC
with Lisa Peterson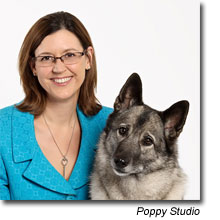 Lisa Peterson with her Norwegian Elkhound Jinx.
Dear Lisa: I would like to know at what age can you tell the size that your dog may be as an adult. I have a 6-month old female Toy Poodle. Is there any rule-of-thumb as to tell what size she may be? – Predicting Puppy Size
Dear Predicting: One of the joys of owing a purebred canine companion is the predictability of breed type. This means that based on the breed and the written standard, when you purchase a dog from a reputable breeder you should expect to get a dog that meets the standard. What does that mean? Let's take your Toy Poodle as an example. When it comes to size, the written standard is very clear, "The Toy Poodle is 10 inches or under at the highest point of the shoulders." So there is no rule of thumb, if you have a Toy Poodle it should be no more than 10 inches tall at the shoulder. If it is, then you have a Miniature Poodle which is between 10 and under 15 inches. More than 15 inches and you have a Standard Poodle. Most breeds have size as one of the descriptions in their standards, which makes it easy for the pet buying public to determine what breed may be best for their lifestyle.
Clues in the Standard
There are other important attributes that can be learned from reading a breed's standard when looking for a pet. Temperament is one of those factors that people should look at closely. Regardless of size, the Poodle temperament section states, "Carrying himself proudly, very active, intelligent, the Poodle has about him an air of distinction and dignity peculiar to himself." So you can see that if you want a high energy, active, smart breed as your companion then a Poodle is the way to go. Another part of the standard which contains great information is the coat section. Here families can learn what colors a breed may come in and what type of grooming or care is required to keep a healthy coat. Poodles, for example, are high maintenance when it comes to grooming and it's important to learn that prior to getting one! Finally, the overall breed description gives the best snapshot of what you are in store for. Poodle: "That of a very active, intelligent and elegant-appearing dog, squarely built, well proportioned, moving soundly and carrying himself proudly. Properly clipped in the traditional fashion and carefully groomed, the Poodle has about him an air of distinction and dignity peculiar to himself." You can find all 167 AKC-recognized breed standards on our Breed pages.
---
Dear Lisa: I am a dog trainer located in North Carolina and I am looking into rescuing a Border Collie from the Border Collie rescue. I will be rescuing this dog for agility and prior to doing so I want to make sure I will be able to compete in AKC agility with the dog. I assume there will not be any papers and a chance that it will be mixed with something else. I have never competed with a dog that was not registered through AKC or a dog that was not a pure bred so I would like to know if I would still be able to compete and what the steps are that I need to take in order to compete. – Bordering on Agility
Dear Bordering: Congratulations on your Border Collie rescue! If your rescue dog isn't AKC registered or you believe it might be a mixed-breed dog then we do have a program for you and your dog. It's called AKC Canine Partners. AKC now accepts enrollments from dogs wishing to participate in the Companion Events of AKC Rally®, Obedience and Agility! Since April nearly 3,000 club trials have welcomed mixed-breed dogs with nearly 600 enrollees earning more than 1,200 AKC titles on their dogs. So please come and join us for the fun. To get started visit: www.moredogfun.com to enroll your dog and learn about additional benefits. Happy Agility training!
---
Dear Lisa: Can you tell me if there is a way to find out if there are puppies available that are related to a certain dog if I have an AKC number? – Pursuing AKC Puppies
Dear Pursuing: I get this question occasionally when an owner of an older dog or recently deceased dog can no longer get in contact with the breeder for whatever reason. They want to get a dog related to their favorite pet. In order to research completely, I would recommend you get a pedigree of the dog whose AKC number you have so you have a complete family tree to select among for related dogs from rather than relying on just the single dog. You can order pedigrees here. Once you have the dog's entire family of AKC numbers you can research them in the Online Breeders Classifieds (OBC) to look for relatives in listed in the litter information section which will include the sire (dad) and dam (mom) of currently available AKC registered litters.
---
Bark Back ~
Reader comments on the November column:
Dear Lisa: I'm so glad you mentioned the "green bean diet" our breeder recommended it for our two labs. As you know labs love to eat! The beans really do the trick, and the dogs think they're getting something really special. I love your column. Thanks for the great tips. – B. B. G.
---
Lisa Peterson, a long-time owner/breeder/handler of Norwegian Elkhounds, is the AKC Director of Communications. If you have a question, send it to Lisa at askakc@akc.org and she may select it for a future column. Due to the high volume of questions we cannot offer individual responses. Read previous columns here.