Ask AKC
with Lisa Peterson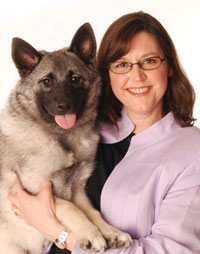 Lisa Peterson with her Norwegian Elkhound Linx.
Dear Lisa: The problem is with my daughter's 1-year- old male Boxer named Bentley. He finds and eats socks of any description. It is a concern because my daughter just caught him eating a clean sock a week ago, and he now just threw up not one but two socks after all this time. – Sock it to Me
Dear Sock: I know socks are notorious for separating from their partners but I'm curious as to how Bentley is finding all these socks. Out of the laundry basket, on the floor, under the bed, near the dryer? Does he open dresser drawers? Plus, it sounds like first he was eating only dirty ones and now he's moved on to freshly laundered ones? It's imperative for his safety that you not give him access to probable places where all these socks hide. To accomplish this you need to take two immediate action steps. First, gather up all the loose socks in your home and second, purchase a crate if you don't already have one and use it as a safety net.
Off-Limits
You don't mention how old your daughter is, but if you are the adult in the home, then Bentley is your responsibility, even if he is your daughter's dog. Therefore, when you cannot supervise him, please place him in a crate, or get several baby gates and block access to bedrooms and laundry rooms where the dreaded socks are lurking. If Bentley is allowed to consume whole socks, it means he has way too much unsupervised time on his paws. You need to keep an eye on your pup and know the instant he has any sock in his mouth. This way you can tell him to "give," "drop it," or "leave it" (you have taught him these commands, right?) if he's found a sock. Once the offending sock is recovered, replace it with an appropriate toy and praise him.
Eating something as large as a sock, even if it's been shredded first, can cause a dangerous obstruction in the dog's intestines which might require emergency surgery to save his life. The reason he vomited the socks after sometime is that the wad was too big to empty from his stomach into his intestines. Luckily, vomiting was his body's way of getting rid of those large objects. I've seen dogs thankfully throw up large rocks, jagged pieces of plastic milk jugs, and other large solid items they couldn't digest. So please, pick up the socks and put Bentley in a crate when he's not under your watchful eye.
---
Dear Lisa: I need some advice on how best to transport our 16-inch tall dog (about 16 lbs) from Puerto Rico to the States. The airlines say no carriers on board over 12 inches high - and dog must be able to stand in carrier. Also, no under the plane transport for our pet if it is greater than 85 degrees outside. So, how do dogs usually travel? – Fido Un-Friendly Skies
Dear Fido: All commercial airlines that ship pets have their own rules and guidelines. I suggest consulting our Airline Travel page, which links to a variety of major carriers' websites listing their policies.
Is your dog 16" at the withers or at the top of his head? I ask because some airlines allow dogs under 20 pounds in the cabin, which would qualify your dog. And if the 16" is a maximum head height, not withers, you may be able to safely have him in a soft-sided carrier which may accommodate him standing up.
American Airlines says this: The maximum size for cabin pet carriers is 19" long x 13" wide x 9" high. Soft-sided pet carriers such as Sherpa bags may exceed these dimensions slightly because they are collapsible. Animals must be able to stand up, turn around and lie down in a natural position in the kennel. Soft-sided pet carriers are accepted as long as they are constructed of water-repellent, padded nylon with mesh ventilation on two or more sides.
But the real test is - Can he comfortably be in a carrier and pushed under the seat in front of you? From your description it sounds like he might be a tad too big which means he must fly as checked baggage.
Flying as Baggage
To your point about temperature consideration, now that the temperatures are rising, travel restrictions are placed by the airlines during the warmer months (and colder months too) for the safety of your dog. For example, American Airlines policy further states, "pets cannot be accepted when the current or forecasted temperature is above 85 degrees Fahrenheit at any location on the itinerary. Snub-nosed dogs and cats will not be accepted when the current or forecasted temperature is above 75 degrees Fahrenheit at any location on the itinerary."
Because it is difficult to travel with larger dogs due to temperature restrictions, it's best to plan for travel in Spring/Autumn and early in the morning before temperatures rise. I would also recommend that you book your reservation early as there are limits to the number of animals that can be placed on a single flight and they are filled on a first-come, first served basis.
---
BARK BACK ~
Dear Lisa: I read about the Antlers for Dogs to chew. Please don't recommend Elk or Bison Bones. They are extremely hard and dry and splinter in large, long pieces. Just thought I'd mention it. I have large working German Shepherd Dogs and almost did not notice that the splinters broke off. Thanks for all your advice for people and the Dogs. - J. B.
---
Lisa Peterson, a long-time owner/breeder/handler of Norwegian Elkhounds, is the AKC Director of Club Communications. If you have a question, send it to Lisa at askakc@akc.org and she may select it for a future column. Due to the high volume of questions we cannot offer individual responses. Read previous columns here.