Ask AKC
with Lisa Peterson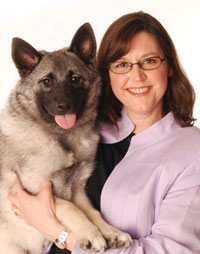 Lisa Peterson with her Norwegian Elkhound Linx.
Dear Lisa: I would like a companion dog for my 16-month-old 13-pound Miniature Poodle. My weight is 96 lbs. A large dog would be too much for me to walk at the same time. I walk at night because of my work. Can you recommend a loving small dog which could also be a protection? I am somewhat uncomfortable when I walk my dog late at night. – Bark Worse Than Bite

Dear Bark: I know that perfect breed for you! The Miniature Pinscher. This small, fearless breed called the "King of Toys" is known to bravely challenge intruders with their bold, insistent bark! Their size is perfect for you at 10-12 1/2 inches tall at the shoulder. According to the breed's standard, their temperament is described as, "Fearless animation, complete self-possession, and spirited presence." This is exactly the type of dog that would be a perfect walking companion with you and your Poodle at night. And since they are good family companions and look out for their family, the "Min Pin" will be happiest with a family that treats him like a standard-sized dog.

National Parent Club
The best source for information on any AKC-recognized breed is its parent club. The Miniature Pinscher Club of America, Inc. has a great website with information on where to find a responsible breeder in your area, as well as a bunch of useful tips and articles.
---
Dear Lisa: I want to train my 5-year old Beagle to poop in one area of the yard. He is use to having the whole backyard but now my daughter is able to play outside. We have tried those scent-attracting posts but they didn't work. We have tried fencing him up in one area but he cried so loud the neighbors called the police. Please help, we don't want to get rid of him. – Doing His Business
Dear Business: Some folks might tell you that you can't teach an old dog new tricks, but while it would have been easier to establish a definitive "relief area" when your Beagle was a pup, all is not lost. The best way to re-train your pet is to start all over again as if he were a pup. So that means back to basics of putting him on a leash each and every time you take him outside to re-enforce the new behavior.
Define a Destination
First, select a defined area in your yard and make it a bit decorative, maybe placing some large rocks at the perimeter of a large square so that all family members will know where the "go to go" area is. Then start taking him to the same area each and every time. When he goes, praise him and give him a treat and tell him he's a good boy. This part he will like! Afterwards go back outside and pooper scoop the area as to keep it clean. Next time you go out to the area, there will still be some scent left over for him to associate with is as his "pooping fields" and he will be tempted to go there again. It's the same principle that happens indoors when dogs tend to relieve themselves in the same area over and over again even though you thought you've cleaned it up! Over time the other areas in the yard will start to lose their attractiveness to him. Once he's done this for several weeks (if your yard is fenced-in), try this off-leash and see where he goes. You may be pleasantly surprised that he's made that his go to place!
I have three dogs that all run out into a large fenced-in yard and each one goes to their "potty spot" off-leash because I trained them to go there each time as a puppy with praise and treats. I still re-enforce this occasionally on leash late at night but they know where to go. Another option is to fence off a large area where your daughter plays and keep it off limits to the dog; that way you know for sure he hasn't been soiling in the area your daughter will play in.
---
BARK BACK ~
Reader comments and suggestions:

Dear Lisa: I just read some of the answers on dogs inhaling food. For what it's worth, my Dad told me that when they had a horse that did that they would place some rounded, polished river rocks in its feed bag. If you don't live near a river they can always be found at garden supply/ mulch dealerships. Three or four fist size rocks (placed in the dog bowl) should do it – T.H.

Dear Lisa: Just read last month's column and saw the additional suggestion at the bottom about Antlers for dogs to chew on, but there was no link for owners to purchase them. I'd be very interested in trying these, as I have 2 labs who LOVE the bones we get from the butcher but the ones I've seen in the catalogs are small and say not recommend for dogs over 50 pounds. Do you know where owners can find antlers to purchase for their pups? – S.B.
Dear S.B.: I have found them on a few sites that sell some dog products, like Orvis. The brand name is Antlerz™ and they come in all different sizes, including large. Hope this helps! Let me know how your dog likes them.
---
Lisa Peterson, a long-time owner/breeder/handler of Norwegian Elkhounds, is the AKC Director of Club Communications. If you have a question, send it to Lisa at askakc@akc.org and she may select it for a future column. Due to the high volume of questions we cannot offer individual responses. Read previous columns here.