Ask AKC
with Lisa Peterson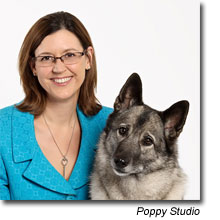 Lisa Peterson with her Norwegian Elkhound Jinx.
Last month many of you shared your dog's favorite toy with us on AKC's Facebook Page. And I have to say what a great response we got. Some of my favorites included: Fred the Rotty with his old spare tire (no rim); Archimedes loves to play with his looftah doggie; Einstein and his stuffed Bessy cow; Gater and his real bowling ball; and Chase likes his squeaky porcupine! Thanks for sharing!
This month come Like Us on Facebook in honor of this column's naming your puppy question and tell us how you picked your dog's name by posting on our wall and you may randomly selected for a FREE give-a-way of the American Kennel Club Breed Identification Guide! This handy field guide is filled with cool illustrations of AKC's 170 breeds by sight, fun facts, national breed club websites, what each breed does best, and more!
---
Dear Lisa: I recently purchased a gorgeous male Boston Terrier puppy and his name is Teddy but we just call him 'Ted.' We're still deliberating over what his full AKC registered name should be. I know some breeders use their last names, or a combination of first names. For example: my name is Mardella+Arnie (my husband) = MARDARS 'Teddy' or Arnie+Mardella = ARMARDS 'Teddy'.
If our last name is used (MINTZ) should it be added to the end or put at beginning of dog's name (Teddy Mintz vs. Mintz Teddy)? I would really like to know, if there's a proper 'formula' for naming your dogs on AKC papers, or if it's just completely up to us? – What's in a Name?
Dear What's: Naming your new puppy is one of the most exciting and some times most challenging tasks when he comes home. Each AKC registered dog has the unique opportunity to have not only his call name like 'Ted' but also his registered name that will become part of the AKC history of purebred dogs in America. They is no official formula to naming your dog, only a few rules, and all the creativity you can think of! I would like to offer you a few tips on the official naming process.
Dog Name Look-up Tool
AKC registration allows for 36 characters, which includes spaces, apostrophes and hypens. If you want to look up if your dog's name has already been used as an AKC registered name in your breed you can go to this handy look-up tool on our website AKC allows 37 dogs to have the same name in each breed with each consecutive dog getting a Roman numeral behind it. So the last dog name in each breed would be Fido XXXVII.
How breeders decide to pick names really depends on many factors. They can put their own kennel name at the front of the dog if they are the breeder or perhaps at the end of the name if they purchased one from another breeder. But for your purposes I would suggest having a little fun with Ted and name him something reflecting your home such as Teddy Mintz of Orlando or Teddy Mintz on Hudson (say if you live near a river). Of maybe your address would be fun: Wisteria Lane's Teddy Mintz. With 36 characters there is a lot of real estate you can fill up to let Ted know how really special he is. Plus you can also register your dog online!
---
Dear Lisa: We recently bred our Standard Poodle and want to keep one of her pups. The question is which sex is best for us to keep? I have heard it's best to keep a male, not a female. What do you know about this? Is it best to neuter the pup since Mom is not fixed? If we wanted to breed a female pup, is that a good idea to have two females go into heat together? We would love your help on this topic. – Keeping Puppy Home
Dear Keeping: As a breeder, one of the hardest things to do when faced with a whelping box full of beautiful cute puppies is not keeping them all for yourself! Even deciding to keep one should be a decision that is made with a lot of forethought and purpose, usually decided even before you breed your bitch.
I'd advise you to ask yourself a few questions to determine what gender puppy you should keep. But ask yourself, 'What is the purpose of this litter?' Have you planned this litter with the purpose of establishing a breeding program or starting a dog show career? Or do have puppy buyers who are interested in getting puppies from your bitch? Knowing what your goals are ahead of time will help your decision. If you are new to breeding and dog showing and want to establish a breeding program, then I would recommend keeping a female. I would work in conjunction with your Poodle's breeder or someone from a local AKC club or local member of the Poodle Club of America to help you evaluate the litter to select the pick of the litter among the females. As you move forward in your education about breeding you will have two females from similar "lines" or pedigrees (family tree) – mother and daughter – to work with when selecting future stud dogs. As far as going into heat together it's fine. Just carefully plan future litters because whelping two at once is a lot of hard work and very challenging, especially when it comes to placing them in good homes!
If you have decided that you are only having one litter and want to keep a puppy as a pet with no intention of showing or breeding then I would suggest you keep a male and then have both the mother and the son fixed. That way you have two healthy canine companions and you don't have to worry about any future accidental litters. Whatever your plans, ultimately, if you don't produce a puppy suitable for the show ring or the whelping box then have it placed as a pet. Resist the urge to keep one that doesn't fit your goals just because they are cute, because we all know that all puppies are cute! Good Luck!
---
Bark Bark ~
Reader comments on the March Column regarding Agility Titles:
Dear Lisa: There are many times in your columns that you use abbreviations for things or words that many of us might not know (i.e. this month you used Rally, AJP, and JWW. Many of us do not enter our dogs into various contests, but it would still be nice to know what you are referring to when you write about these things. Perhaps if we knew what they were it might be something we want to participate in. Thank you so much. I really enjoy you columns. – P.W. PhD
Dear P.W. PhD: That's a really good point! Here is a glossary of all the AKC titles for you. Enjoy reading up on all the fun you can have with your dog!
---
Lisa Peterson, a long-time owner/breeder/handler of Norwegian Elkhounds, is the AKC Director of Communications. If you have a question, send it to Lisa at askakc@akc.org and she may select it for a future column. Due to the high volume of questions we cannot offer individual responses. Read previous columns here.