Ask AKC
with Lisa Peterson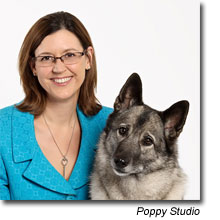 Lisa Peterson with her Norwegian Elkhound Jinx.
Summer starts next week and with it comes warm weather. As a reminder, remember it can be deadly for dogs in cars. It only takes a few minutes for a car to heat up to 120 degrees no matter the outside temperature, even with the windows cracked open. We got a lot of comments on this topic on AKC's Facebook Page last week about what is safe and what is not! Please leave your dogs home or take them with you if you run errands. I'd like to invite all my readers to Like us on Facebook to support not leaving your dog in the car during hot summer months and post your dog's favorite way to stay cool on our wall and you may randomly selected for a FREE give-a-way of the American Kennel Club Breed Identification Guide! This handy field guide is filled with cool illustrations of AKC's 170 breeds by sight, fun facts, national breed club websites, what each breed does best, and more!
---
Dear Lisa:A friend of mine is going to enter her Yorkshire Terrier in Beginner Novice A Obedience.Her dog is in long coat and wears the appropriate band and bow in her top knot. She accompanied me to a trial this past weekend, and someone commented that a bow would not be allowed if she were going to participate in an obedience trail.She was told they would probably only permit a rubber band with no other ornamentation. Is this true?- Bow Banned?
Dear Bow: Congratulations to your friend for jumping into the ring to have some fun with her dog in the new Beginner Novice Obedience class. As for your question, I can point to the official Obedience Regulations to answer your question:
In Chapter 1, Section 17 it states, "Dogs whose hair surrounding the eyes, ears or beard interferes with their performance may have their hair tied back with elastic bands or small plain barrettes, or in the manner as they are normally shown in the breed ring."
So according to the AKC rulebook your friend's Yorkshire Terrier certainly can wear a bow in the obedience ring since this is the manner in which they are normally shown in the breed ring. Besides her dog will look very stylish as she also demonstrates her obedience skills in the ring. Tell your friend good luck and good looks!
---
Dear Lisa: I have a question in counting conformation championship points earned by a dog. This was the recent entry at a dog show. 1 class dog, 2 class bitches, 2 champion dogs. I owned the class dog, and he won Best of Winners, which I knew gave him one point for defeating the Winners Bitch, who earned one point. My question is, if he had won Best of Breed over the two champion males, would he have won two points for defeating the champions only. Or would he have won three points, one for defeating the Winners bitch and another two for defeating the two champions?
Dear Points: What a great question. Each year AKC publishes a new point schedule which allows exhibitors to determine how many dogs or bitches their need to defeat in their geographic area by breed in order to accumulate the necessary 15 points to become an AKC Champion. I think determining Championship points is one of the most challenging things for the novice exhibitor especially if their class dog goes Best of Breed over champions of both sexes.
Let's look at the rules:
Rule: The Points toward a Championship shall be awarded to the Winners Dog and Bitch of each breed or variety based on the actual number of dogs or bitches competing in that breed or variety.
So your class dog was the only one entered which means that no points were available because your dog did not defeat any other class dogs. But your dog took Best of Winners (BOW) which meant he was also awarded the points won by the bitch since he defeated her. For example if Winners Bitch (WB) has three points and Winners Dog (WD) has two points and WD goes BOW then he gets three points, not five, because three is greater than two. There is no addition of dog and bitch points.
Rule: If the dog designated Winners Dog or Winners Bitch is also awarded Best of Breed or Variety, the dogs of both sexes that have been entered for Best of Breed or Variety competition and that have been defeated in such competition, shall be counted in addition to the dogs that competed in the regular classes for its sex in calculating championship points.
At your show, since there were no other dogs in the classes and only two champion dogs defeated, your WD would have defeated only two dogs (2 dogs defeated earns one point in your area). In this case your dog would only earn one point for Best of Breed (BOB) over two male dogs or one point for BOW over the WB who had one point. In this scenario you would not have earned extra points had your dog won BOB.
But let's use this example to demonstrate how the above rule would work if there are class dogs present.
Let's say your WD had defeated four class dogs to get two points. Then he defeated three champions entered in BOB (two dogs and one bitch). Points would be calculated as if your WD had defeated seven dogs, four class dogs and three champions (count them all as "dogs" since champions defeated are counted as if they are of the same sex as the BOB winner). Let's say that to defeat 7 dogs was a four-point major. However, by taking BOB your WD would also be BOW over WB. If the WB had won a 5-point major because she defeated say 12 bitches, then because that point win is greater, your WD would have won a 5-point major. In short, whatever dog you defeat that has the greatest number of points won on that day goes to your dog. Simple right? After a few more success in the show ring you will begin to figure it out.
For complete rules go to: Rules Applying to Dogs, Chapter 16, Championship. Happy Reading!
---
Bark Bark ~
Reader comments on the May Column regarding getting dogs to take pills:
Dear Lisa: Cream Cheese. It's never failed. – T.M.
Dear Lisa: I just wanted to give you a little info about crushing pills for your readers. As a formulator for a pharmaceutical company, I know that some medicines cannot be crushed or removed from the capsule. Sometimes, the tablet contains a special coating or may contain a component that influences the release of the drug. Sometimes even a capsule plays an integral part in the delivery of the medicine. Before crushing a tablet or removing the components of a capsule, the owner should check with their vet or ask their local pharmacist (a pharmacist can best answer these types of questions, since most animal medicines are developed for humans first). - A proud Keeshond owner and chemist
Dear Chemist: Thanks for the great perspective and advice! All dog owners should work in concert with their veterinarians (and in this case their pharmacist) when administering medication to their dogs!
---
Lisa Peterson, a long-time owner/breeder/handler of Norwegian Elkhounds, is the AKC Director of Communications. If you have a question, send it to Lisa at askakc@akc.org and she may select it for a future column. Due to the high volume of questions we cannot offer individual responses. Read previous columns here.