Ask AKC
with Lisa Peterson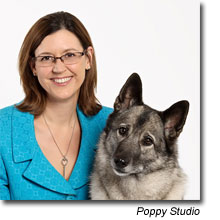 Lisa Peterson with her Norwegian Elkhound Jinx.
Spring is upon us! With all the snow and rain this winter we can expect a milestone mud season! While we may be dealing with dirty paws, the winter precipitation does bode well for our gardens. I get a lot of questions about dogs digging in the garden, so I'm sharing one of my favorite columns just in time for spring. But back to mud season and dirty paws! I'd like to invite all my readers to come to AKC's Facebook Page and Like us for Spring as I launch some new exclusive content in our social media spaces! I'll be posting tips on how to battle a variety of springtime challenges, from dealing with the mud on your dog to shedding in the house as well as battling ticks and getting your dog back in shape to hit the dog park or the competitive trail to success! So come Like Us on Facebook and post your dog's favorite Spring activity on our wall and you may be randomly selected for a FREE give-away of the American Kennel Club Breed Identification Guide! This handy field guide is filled with cool illustrations of AKC's 170 breeds, fun facts, national breed club websites, what each breed does best, and more!
---
Dear Lisa: Now that Spring is right around the corner, I'm spending more time outdoors with my young puppy. However, all she wants to do is dig in the yard. She digs in different places and is destroying the lawn and garden. What can I do to stop her from this annoying habit? — Spring Solutions
Dear Spring: Dogs will dig! It's in their nature. It's a tool they use to accomplish many tasks. But why they dig is as wide and varied as your yard's terrain after the puppy has had her way in the turf. Reasons for digging fall into two categories: a natural instinct to achieve a goal or a symptom of a behavioral problem.
Instinct vs. Bad Behavior
Many purebred dogs were selectively bred for their digging abilities. The terrier breeds in particular and some hounds are noted for "going to ground" to locate their quarry. While Dachshunds may dig for badgers and Parson Russell Terriers for fox, other breeds use digging to help locate weasels, otters, rodents and other small vermin that live in the ground.
Dogs may dig when they find small mammals like moles or voles in your yard. With dogs' acute hearing they hear them scurrying along in their underground burrows and their keen sense of smell helps them locate the exact spot to dig. Hunting prey is one major reason for digging. Especially if you have a heavy-coated breed your dog may dig to create a cool spot in the earth to lie down in. This natural cooling method is employed in shady areas during summer's heat. Sometimes dogs just like to have fun and digging gives them a thrill.
Other times dogs may dig out of boredom, obsessive-compulsive behavior or the need to escape. Puppies especially have tons of energy and need to release it somewhere. If a puppy isn't mentally challenged or physically exercised enough she could be digging to relieve that pent up energy. Dogs that dig at a fence line may want to escape from the yard either to play with other dogs to relieve boredom or to try to locate their owners due to separation anxiety.
Solutions
Once you've identified what type of digger you have dealing with solutions can be more focused. If prey drives your dog to dig then removal of the object of their desire is first and foremost. For fun diggers, keep bare spots of dirt to a minimum as the soft earth is an easy target. Cover barren patches with natural obstacles like stones, tiles, gravel or wood or use temporary measures like chicken wire lied flat over the spot to prevent digging. This may stop digging in that one area but may lead your dog to dig elsewhere.
The best solution is not to try and stop your dog from digging but give him his own place to dig by building a digging pit or sandbox. However, the only way to truly prevent digging is to provide a small kennel run with a concrete floor.
One further option is to allow dogs to dig in their own yards. Many people divide their yards into dig-free zones for cultivation of manicured gardens and lush lawns and give the dogs a fenced-in area all their own. My dogs have their own 30 x 50-foot area that is theirs for the digging. Having holes to work on and dirt to excavate is one of their pleasures! Plus it's fun to watch them dig a hole big enough to disappear into. This compromise gives man and his best friend what they both want with no hard feelings between them.
---
Dear Lisa: I am entering my dog for his (and my) first Rally Advanced Class. When I began in Rally Novice, I entered in Novice B because members of my club told me if I had ever finished a title on a dog in my life, I could only enter for B classes (I had never showed before in Rally, but 35 years ago I had completed a CD on a dog).So, I entered and finished a title in Rally Novice B. My question is do I enter my dog in Rally Advanced A or Rally Advanced B for our first time out in Rally Advanced? – Moving On Up
Dear Moving: You and the dog would be eligible to enter the Rally Advanced A class. For the Rally Advanced A class, the dog being shown must have earned the RN title, but may never have earned an AKC obedience title prior to the close of entries for the event being entered. Additionally, the handler of the dog must be the owner or a member of the owner's household or immediate family. The following are the entry requirements for Rally Advanced A & B.
The Rally Advanced A Class. To be eligible for this class, dogs shall have won the Rally Novice (RN) title but have not won the Rally Advanced (RA) title or any AKC Obedience title prior to the close of entries. A handler must own the dog entered or be a member of the owner's household or immediate family. A person may enter more than one dog in this class. After a dog earns the Rally Advanced (RA) title, it may continue to compete in this class for 60 days. No dog may be entered in both Rally Advanced A and Rally Advanced B at any one trial.
The Rally Advanced B Class. To be eligible for entry into this class, competing dogs shall have won the Rally Novice (RN) title prior to close of entries. A dog completing the Rally Advanced (RA) title may continue to compete in this class indefinitely. The owner or any other person may handle the dog in this class. A person may enter more than one dog in this class.
---
Dear Lisa: Our dog has her AJP. Do we now have to move her from "A" to "B"? - From A to B
Dear From: Once a dog has earned three qualifying scores for the AJP (Excellent A JWW Preferred) title, they should move up to the Excellent B JWW Preferred class to begin working toward the MJP (Master Excellent JWW Preferred) title. By staying in the Excellent A JWW Preferred class after the AJP title is earned, any qualifying scores earned in that class would only provide "extra" scores toward that same title and not gain the dog/handler anything more. But by moving up to the Excellent B JWW Preferred class, the dog will begin to earn the 10 qualifying scores needed to earn the MJP title.
---
Bark Bark ~
Reader comments on the February Column regarding hot spots:
Dear Lisa: We have 4 Siberian Huskies and had this issue with one of them. Our vet could not find a reason as well for his chewing. She suggested we assume it is an allergy to start. We used some antihistamine. After a daily dose for a summer, he stopped chewing, his fur grew back, and he was more relaxed. Might be a simple solution to try. – L. D.

Dear Lisa: Another 'hot spot' problem could be the lack of a proper diet. My sheltie and lab/dalmation mix both had hot spots that drove them crazy. After medications didn't work, I did a little research and gradually changed their diet from a wheat based food to an animal based food. I also added salmon oil once daily to their dry food. Presto! No more hot spots, bald spots, hair loss and incessant itching. Even shedding has been minimized and their coats are thick and full. Happy pups, happy owner! – T.C.

---
Lisa Peterson, a long-time owner/breeder/handler of Norwegian Elkhounds, is the AKC Director of Communications. If you have a question, send it to Lisa at askakc@akc.org and she may select it for a future column. Due to the high volume of questions we cannot offer individual responses. Read previous columns here.