Ask AKC
with Lisa Peterson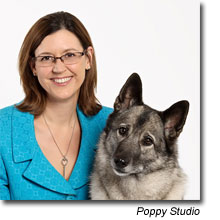 Lisa Peterson with her Norwegian Elkhound Jinx.
Dear Lisa: My wife and I recently had a fire at our house. We will not be able to move back in until around Christmas. We have two female German Shepherds, one is 3 years of age, the other six months. Both are AKC registered and come from a top breeder. We have been living at a hotel until a rental comes available. The company working with our insurance had told us that it would be very difficult to find a rental because the board of realtors has listed the German Shepherd as a vicious breed. We have owned German Shepherds for years primarily because they are easy to obedience train and they have a very good temperament. Have you heard of German Shepherds being black listed before? - Blacklisted Breed Owner
Dear BBO: I'm relieved to hear that your entire family, both humans and canines, escaped without harm. Your question raises a perfect example of why everyone who owns a dog needs to be responsible. Each September AKC celebrates Responsible Dog Ownership Days to help educate dog owners and non-dog owners what is means to take responsibility for your dog. No dog is inherently dangerous based on its breed and lists of banned breeds do a disservice to the majority of responsible dog owners of that breed.
The underlying cause of dangerous dog issues is irresponsible ownership. Unfortunately, actions by irresponsible dog owners play into creating problem dogs, such as lack of early socialization, not providing ongoing training, or even neglecting to provide a dog adequate exercise or routine veterinarian visits. It's a shame when the actions of a few bad owners create hardships for those who truly care about their dogs.
In my experience, most times a breed ban proposal follows an unfortunate incident involving a single dog of a specific breed. I've even seen Chihuahuas show up on a dangerous dog list. For example, if an XYZ breed was involved in an unfortunate incident, all of sudden that entire breed is put on the "banned breed list" even though no other information about that dog, it's owner or the circumstances of the "dangerous act" are considered before placing the breed on the list. Additionally, once a breed appears on such a list, this reinforces an undeserved reputation of certain breeds as having inherently dangerous temperaments.
Walk the Talk
We believe that education about responsible dog ownership is the key to addressing this issue. AKC's Responsible Dog Ownership days provide information and resources for individuals and communities about how to be a responsible dog owner. An excellent way to demonstrate that you are a responsible dog owner of any breed is to show what steps you have taken to prove that you and your breed of dog does not belong on such a list. This is a great educational opportunity for all parties. I would gather up information about your dogs, such as passing the Canine Good Citizen® test, which shows your dogs have good manners, and other proof of obedience training and make a personal visit with your dogs to the Board to show them that your breed, and your dogs in particular, are well behaved and you are dedicated to responsible dog ownership. The AKC (or AKC Government Relations Department) can also provide you with a variety of resources to share that discuss why breed specific laws are ineffective.
The best way to dispelling these myths that certain dog breeds somehow should be on a list of bad dogs is to remind people of this phrase: "It's the Deed not the Breed." Any breed or mixed-breed of dog can exhibit problem behavior if an owner does not live up to his responsibilities, so it's up to us responsible dog owners to walk the talk. All dogs have an equal opportunity for being great members of our community!
---
Celebrate AKC Responsible Dog Ownership!
What makes you responsible? Tell us and read what our fans on Facebook have been saying to celebrate "Virtual AKC Responsible Dog Ownership Days" this September.
Crackers and I just had an obedience training session on my driveway and sidewalk -- had to be on-lead though, in case a barn cat made an appearance -- we are working on focus, but have not yet achieved it to that level! – C.O.
I took a first aid and CPR course. Now I am prepared to administer first aid and CPR to our pet stabilizing her giving me time to get her to her Vet. - L.W.W.
I took my dog to classes...My dog is perfect! - S.B.
My poodles have their CGCs and we're part of the Northwestern Connecticut Dog Club, we so far got 1 rally title and still working on getting more, we attend classes every week, and go to dog shows about once a month. - A.P.
My dogs all have their AKC Canine Good Citizen certifications. We went to many classes, and work as a team on a daily basis at home and out in the world. - S.C.
I brush my dogs everyday, bathe once a week. - C.P.
We Brush Our Dogs' Teeth EVERY night. They just LOVE it!! They line up and wait their turn. - L.F.
I will make sure my dogs are always inside and unable disturb my neighbors during sleeping hours. - J.A.V.
I've already bagged 5 unknown doggie's piles today...not including my own dog's. :) - M.G.
I have a bag holder on each of his leashes and always keep one stuffed in my pocket. And for a special treat delivered a Bergan dog travel harness to my friends German Shepherd so she isn't loose in the back seat anymore. :) - J.C.
I make sure my elder bulldog never misses any of his medication. Twice a day, no excuses. - S.M.L.
Pet therapy visits w/ my male boxer, Zip. - L.G.
Keep shots current - C.A.G.
I brush my Greyhound's teeth every day so she has a pretty smile when we do our therapy dog visits. I always clean up after her and make sure I have bags on hand either on me or in the car. - A.C.S.
I just adopted a senior dog who loves having her shoulders and hips massaged with a wooden ball massager. - C.G.H.
Took my pups for a 2 mile walk this morning, then played with them and them cleaned their beds. - A.V.
---
Lisa Peterson, a long-time owner/breeder/handler of Norwegian Elkhounds, is the AKC Director of Communications. If you have a question, send it to Lisa at askakc@akc.org and she may select it for a future column. Due to the high volume of questions we cannot offer individual responses. Read previous columns here.