Ask AKC
with Lisa Peterson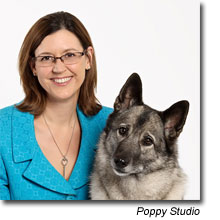 Lisa Peterson with her Norwegian Elkhound Jinx.
Ask AKC with Lisa Peterson
Dear Lisa: I know this may sound like a strange question, but here goes. My wife and I would like to add a dog to our family (we haven't owned one since our beloved Boxer (Rocky) passed away in 1993. We now are retired and this past fall had the back yard fenced off, so we think we're ready. My question is, we are looking for a small lap dog with short hair less likely to shed much, we have talked about a Pug or Parson Russell Terrier, but thought there might be other breeds that we should consider. We've tried books from the library but just couldn't find the information we were looking for. Can you suggest one? Are the two we're thinking about good choices? – Ready for Puppy Love Again
Dear Ready: Congratulations on taking the first step to being a responsible dog owner by doing your research to find a breed that fits your lifestyle. It sounds like you really loved your Boxer "Rocky" and would like to find another fun canine companion but in a smaller package for your new lifestyle. One of the benefits of your new lifestyle is that you'll be home to welcome your new puppy and can spend some quality time training, socializing and getting him (or her) acclimated to his new home.
Coat and size
Let's look at the Pug and Parson Russell Terrier in regards to shedding and size. The Pug has been described as "a lot of dog in a small space." They can weigh between 14 and 18 pounds as adults. They do have a coat that sheds but requires minimal grooming, not unlike your Boxer. On the other hand the Parson Russell Terrier coat comes in two varieties - smooth or broken (wire-haired) – and is a dense weatherproof double coat. While this coat does not shed in the traditional manner of blowing all it coat once or twice a year (like the Pug) is does require "hand-stripping or plucking" of the dead coat or clipping of the coat as it grows out. It does require a bit of grooming on your part. Or you might be able to find a professional groomer or breeder who knows how to maintain a proper terrier coat and do it for you. The Parson is nearly the same size at from 13 to 17 pounds, so picking up the dog and the weight in your lap will be equal. So the Pug sheds but requires less maintenance grooming while the Parson doesn't shed but will require more maintenance grooming. The choice is yours.
Temperament
But the most important consideration to fit your new lifestyle should be the breed's temperament, since you will be spending at least from 10 to 15 years or longer with this dog. Let's look to the breed standard to find out the differences.

An excerpt from the Parson Russell Standard states its temperament should be, "Bold and friendly. Athletic and clever. At work he is a game hunter, tenacious, courageous, and single minded. At home he is playful, exuberant and overwhelmingly affectionate. He is an independent and energetic terrier and requires his due portion of attention." Clearly the Parson Russell is an active dog that requires lots of exercise and a job to do to keep him happy. A fenced in yard is a very good idea for a Parson since he has a reputation as an escape artist. I found this great Buyer's Guide on the Parson Russell Terrier Association of America's website. It is loaded with great information on the breed and how to find a responsible breeder.

Now let's compare the Pug's temperament which its breed standard states, "This is an even-tempered breed, exhibiting stability, playfulness, great charm, dignity, and an outgoing, loving disposition." For more info on the Pug go to the Pug Dog Club of America's website.
So while both are playful and loving, one leans toward energetic and exuberant and the other is charming and even-tempered, so pick the one that best suits your lifestyle.
---
I found a great question from AKC's Facebook Message board:

I am a 4-H Dog Club Leader in Kinsley, Kansas and my daughter is just getting started showing her border collie in AKC events. Our 4-H club is just getting started and is interested in purchasing used agility equipment. I have searched the internet and any imaginable place I can think of for used equipment. I was just wondering if you had any leads or information that you could provide me? We are currently building some of our own, but would like to purchase maybe some of the bigger items and we don't have the funds at the present time to buy new. Thank you for your time.
Dear 4-H Leader: I asked AKC's Senior Agility Field Representative Gail Storm about your needs and here are some great ideas from her for you!
Talk to all the dog clubs of any type in their area and ask them to poll their members to see if anyone has anything they'd like to donate or sell.
Leave a poster in local vet clinics that might catch the eye of an agility competitor that uses that vet.
There are many "chat lists" on the web, such as the one in my area that is a Yahoo group called "Midwest Agility" and joining those and asking for help or what might be for sale.
There are also "breed specific" Yahoo group agility lists and one of those might be helpful.
Since the owner has a Border Collie, there's a lot of rescue groups too that have members that do agility or have agility connections in their area so also seek out those in her area and see what's going on with them.
At the same time maybe they can help out the rescue group with a donation of time or work. One thing that I had the local group do was to hold several "50/50" drawings at group events and they sold some tickets and were able to get enough money to buy some of the larger pieces of equipment.
And lastly, there are possibly local competitors that would be willing to donate "time on their equipment" to the kids. I do that in my area and let any child under the age of 18 use the equipment for free.
Thanks Gail for some awesome ideas to help kids and 4-H groups get started in Agility. Just remember to make sure the "used" equipment is safe for dogs before using it. For more information about AKC Agility visit www.akc.org
---
Lisa Peterson, a long-time owner/breeder/handler of Norwegian Elkhounds, is the AKC Director of Communications. If you have a question, send it to Lisa at askakc@akc.org and she may select it for a future column. Due to the high volume of questions we cannot offer individual responses. Read previous columns here.